Nantahala Guided Rafting Trip August 4th – 6th, 2023.
Cost $105/Per Participant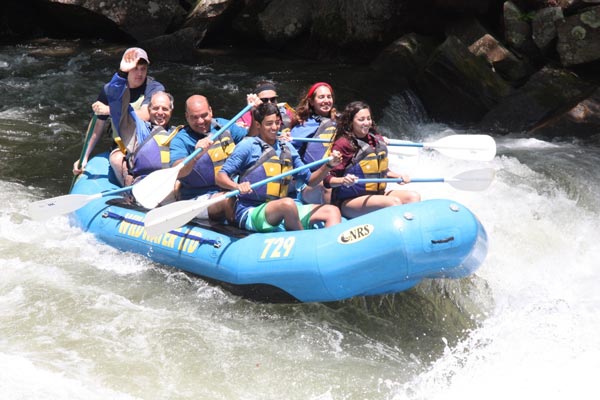 REQUIREMENTS:
All participants will need to be classified as a Swimmer
Minimum Age: 7 years old or at least 60 lbs.
Rafting Time: 3 hours
Rapids Class: Class II & Class III Rapids
Dates: August 4th – 6th
Location:
Wildwater Nantahala: 10345 Hwy 74 W, Bryson City, NC 28713
Description:
Enjoy the Nantahala, a popular and exciting eight miles of Class II and III rapids. A beautiful river perfect for families, youth groups, businesses and anyone wanting a fun whitewater experience that offers thrills and chills on swift clear currents. Full instruction and orientation is a part of every trip. A guide is included in every raft.
Important Notes:
Link to Website about Trip Information: https://wildwaterrafting.com/adventures/nantahala-river-rafting/
Notes: Please check-in at Wildwater Nantahala at least 30 minutes prior to your departure time, you will be required to read and sign a waiver. We are located 12 miles southwest of Bryson City on US Hwy 19/74. Please wear tennis shoes or water shoes/sandals, no flip flops. Your towel and change of clothes should be left in your car, we will provide a place for keys while on the river. At the departure time you will receive an orientation, rafting equipment and transportation to the river. We will launch right into Patton`s Run where we are all guaranteed to get wet. Another eight miles of class II and III rapids will end with a run through Nantahala Falls. At the take-out you will ride our bus to Wildwater Nantahala where your car, changing rooms, showers, trip photos and gift shop await you. All trips go RAIN OR SHINE!
Trip Plan:
Friday: We will meet at the Church at 5:45 pm to gather and leave together to drive to Franklin, NC, to Pauls's place. It's a 2.25 hr drive to get there. We plan to speedily get ready to leave so we can arrive and set up camp before dark.
Saturday: We will wake up, have breakfast and go Gem mining in the morning, 30 minutes from Franklin, NC. We plan to arrive at Gem Mining from 9:30 to ~11 am and will bring our lunches with us. After that, we will either stop by the cabin or most likely go directly to the white water location and arrive by 12:30 pm, which is a 30-minute drive as well. From 1 pm to 4 pm, we will be rafting, then make our way back to Franklin, NC, and cook dinner.
Sunday: We will wake up, have a nice breakfast, have service, and head home and arrive before lunch.
Registration:
Registration must be completed by July 24th.
Please fill out the form below to register for the trip!
Signups are now closed for this trip. Please email andrewlloydfair@gmail.com for further information to see if you'll still be able to go.