---
Wilderness First Aid Class
posted October 3, 2016
Troop 149 scouts and adults participated in the Red Cross Wilderness and Remote First Aid Class this weekend. All participants passed their exam at the end of the 2nd day and are now certified for 2 years. The class was taught by Lance Haynie with assistance from Josh Fulmer.
The class was structured to have lecture, sometimes followed by YouTube videos to reinforce what had been taught. Scenarios were then concocted outside the classroom where we got hands on experience dealing with an unknown situation. We had to determine whether there was a health problem or not, and if so, what to do to stabilize the patient. We discussed situations on whether to try to carry out the patient, go for help, or some combination of the two and what factors were important for that decision. All of the scenarios, and we did many, were very plausible with specific known points of geography where the accident occurred. We all got to play victim, complete with bruises and rash makeup, and some of us got to act out stress psychosis.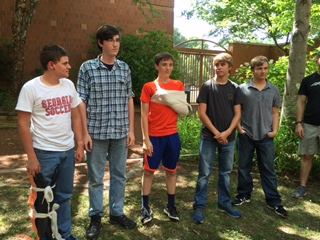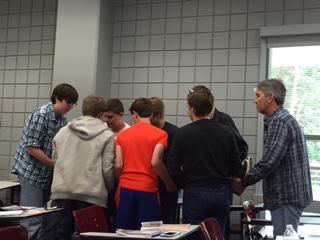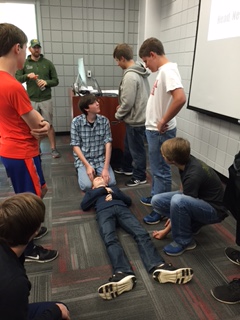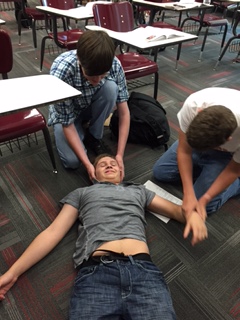 ---
Wilderness Survival Weekend 2016
posted: October 3, 2016
Wilderness Survival Weekend
4 survivor Scouts, 2 base-camp Scouts, and 3 adults mustered on Friday evening. After a quick review of their survival kits and packing of the base camp gear, we hit the road for the very short drive to "New Gilwell,"
Throughout the day on Saturday the survivors took part in a series of challenges focused on the merit badge requirements and related skills, and received small food rewards (berries, honey, egg, beef stick, coconut, carrots…) for their success. These included flint-and-steel fire starting to boil water in an orange peel; setting up a "solar still" for water collection; fire-starting (mostly!) with battery and steel wool and with magnifying glass; signaling with ground-to-air signals and signal mirrors; fishing (and eventually one fish was caught, but, after dinner…); marksmanship (rock and can); and lashing a bridge to get to "side item island," where each successful crossing resulted in a dinner item (sweet potatoes, carrots, sunflower seeds, and Portobello mushroom caps). From the marksmanship activity, they received a whole (grocery store) chicken for dinner, too, and after some cutting and prepping, they enjoyed a tin-can stew plus fried-on-a-shovel chicken, glazed with honey and a side of coconut.
Meanwhile, at base camp, our Scouts prepared another fine meal of chicken and vegetable burritos and sopapillas (deep fried tortillas with honey and other toppings), and chatted around the campfire with Mr. Booth until turning in for another nice cool night's rest.
Our survivor group did an excellent job of maintaining morale and taking on all the challenges presented, and completed all merit badge requirements to boot. Our base campers likewise did great with having to be "fire, cook and KP" on the duty roster for every meal, with some adult support. Great job, all!
Survivors: Kaleb M, Gabe N, Wyatt S, Nick W
Base Campers: Callaway G, Evan S
Adults: Paul M, Eric G, Stephen S
---